When a bunch of Italians get together, it is bound to get saucy. So in friendly competitive spirit, we all challenged each other to a #sauceoff.  We were judged by a group of close friends, who managed to stay unbiased.  After enjoying several bottles of great Italian wine, we dished it up, but one dish was clearly #1.  Grazie.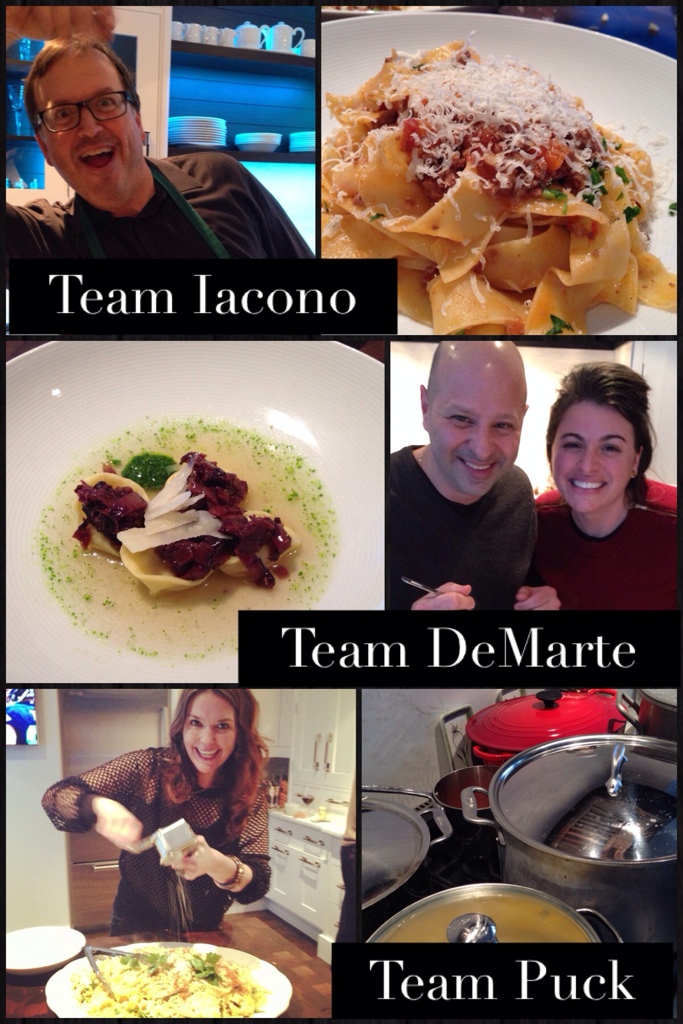 Our host, Team Paul Iacono, stirred the crowd with his Tagliatelle & Ragu Bolognese. Not a heavy meat sauce that you would expect in a bolognese, Paul's was layered with flavor and very light. The winner!
The De Martes went all 'Italian Job' on their dish.  James is an amazing chef and worked all day on his handmade Tortellini "tastasal" with Treviso, bacon ragù in a free-range chicken broth with parsley pesto and grana padano.  The whole dish was perfection, the parsley pesto gave it a very fresh flavor. In second place – James is looking for a re-match!
Last but not least, #BillyisTheBest and I pulled out a classic we often make at home, Pasta Ceci. Seared chicken with onion, garlic, chick peas, arugula, parmesan and toasted bread crumbs. An Italian peasant dish inspired by my momma, Roro Bitetti.
Round TWO will be happening soon!
This was such a fun way to have a dinner party. Rachel DeMarte expertly created a charcuterie platter from Bari Foods, and we each prepared our dishes at home, then plated them up at go-time.
Layer in some wine (and grappa) – it was a fun night worth competing for.
Thanks to all our judges and photo takers!