That's how the night ended, so let's just say the night ended well.  This year was my first at the Green City Market BBQ, which is embarrassing to admit, since I love all the restaurants participating and several of my clients are also there.  But it was quite the Sweatfest.
Little W and I from XA represented, and were both excited to attend.  We just came off of Chefs and The City for Vital Bridges pandemonium, so were looking forward to another foodie event to go to with my PARTNERS IN CRIME (PIC).  So we hit the BBQ when PIC noted it was 101 degrees. Subconsciously conjuring calm and icy thoughts, we voraciously attacked the first beer tent, and tried to develop a Plan of Attack to visit with and taste as much food as possible, before we had to go establish the locale for the air-conditioned after party.
Here are our favorite finds, and if you are not listed, it is probably because we expired to the bar at Perennial Virant.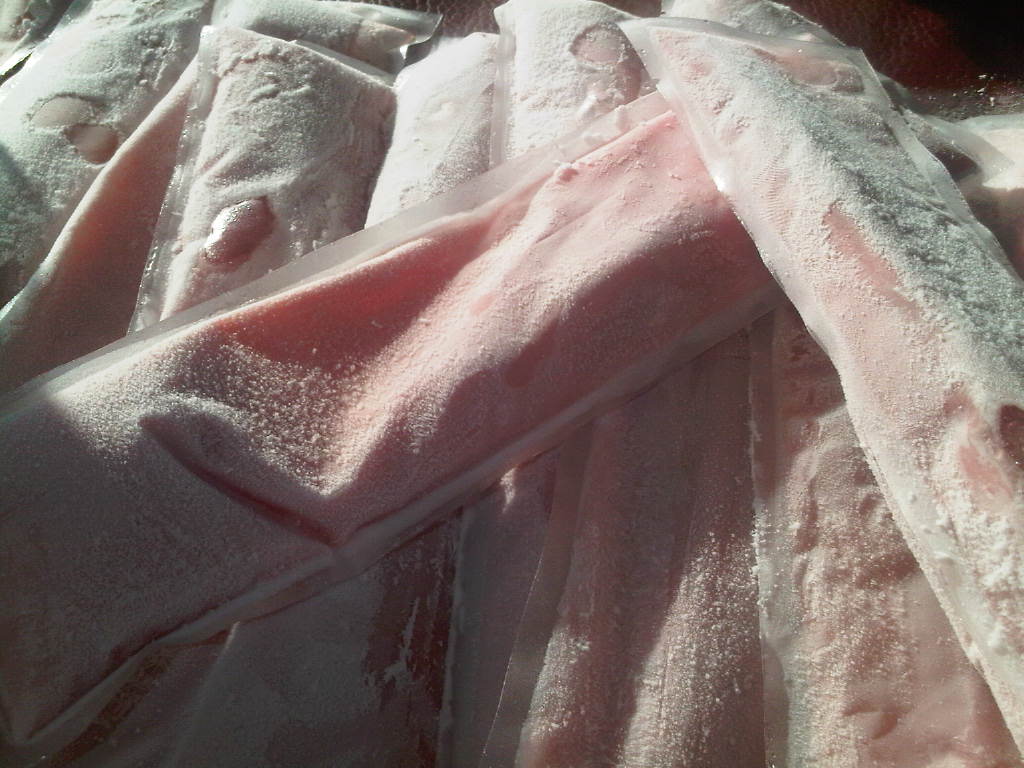 DAVID BURKE'S PRIMEHOUSE
Rick Gresh, you are brilliant.  I am not saying that because you pay me, but after reading all the other reviews and blogs about the BBQ, I would say it's unanimous your Cherry Margarita and Bourbon Bombs were the BEST IDEA EVER.  Look at that frosty goodness. You rule.  Can you please make more?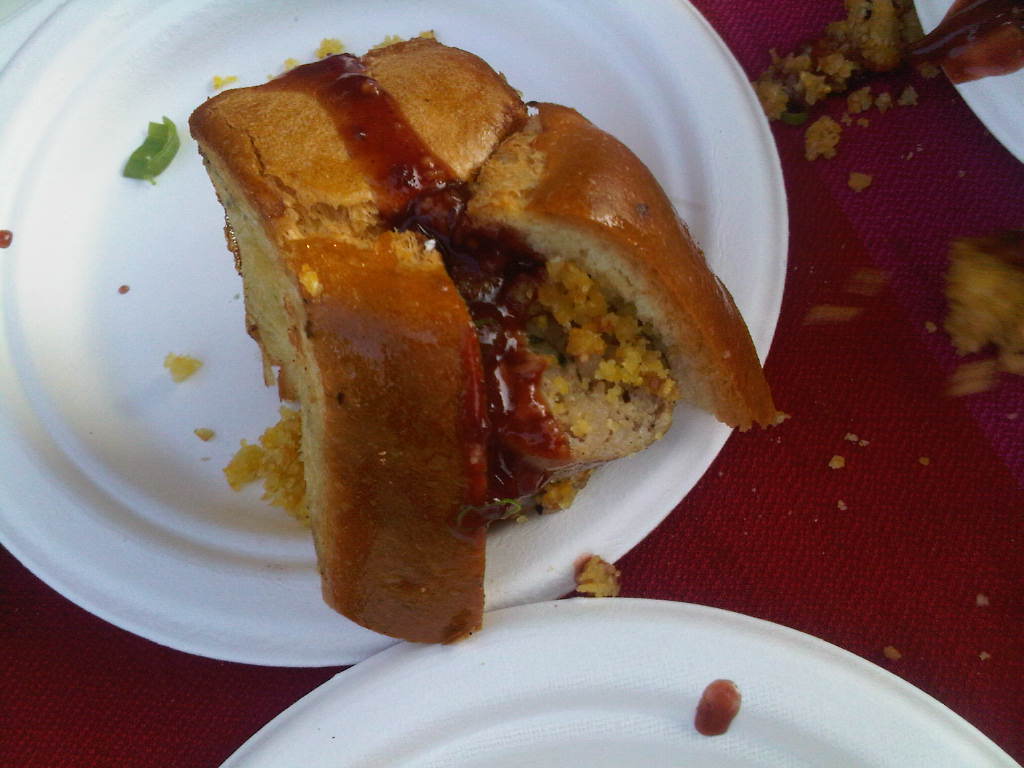 FRANKS 'n' DAWGS
A place I have never been and a place I can't wait to try.  The crowds were raving about these.  It was called The Southerner:  Pork Sausage topped with Corn Bread and Cherry-Bourbon BBQ sauce.  Typically not a fan of fruit with savory food, the sauce made the dish and the soft toasted roll was the perfect vehicle.
THE BRISTOL
Friends from The Bristol, you guys were seriously rocking it out over those flaming hot grills in 101 degree weather.  The beef is from the Q7 ranch in Morengo, IL, and aged for a few weeks before landing on this potato bun.  Pink pickled red onions, Tilamook cheddar and garlic aioli got it ready for it's close-up.  And yes Amanda Rockman, after reading your FB post I also had to take several showers (even as just a guest) to stop smelling of a BBQ pit.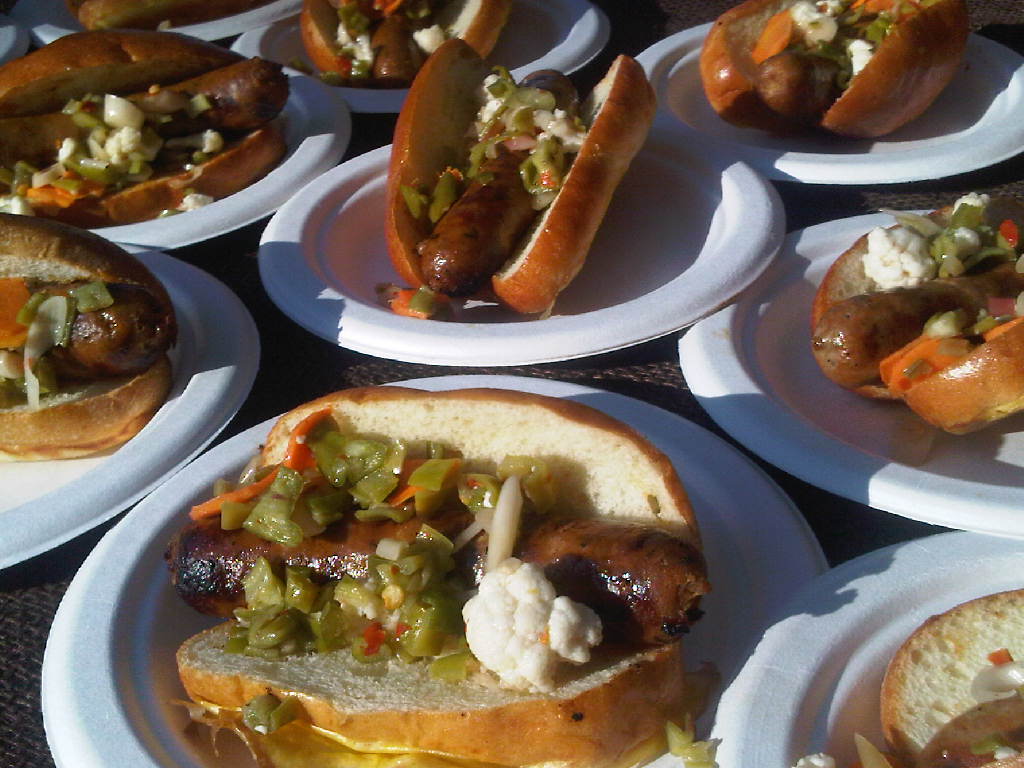 UNCOMMON GROUND
The sub-theme to the BBQ was SAUSAGE FEST 2011.  There have never been so many sausage and brat themed dishes in one place, except for the Italian Fest down on Taylor Street every summer.  I had a first blind date at Uncommon Ground a while ago, and loved talking to the chef and telling him the story.  At least it got me in there. (They also have great Bloody Marys).  I was too hot at the time to try this, but looking at it now that was such a huge mistake.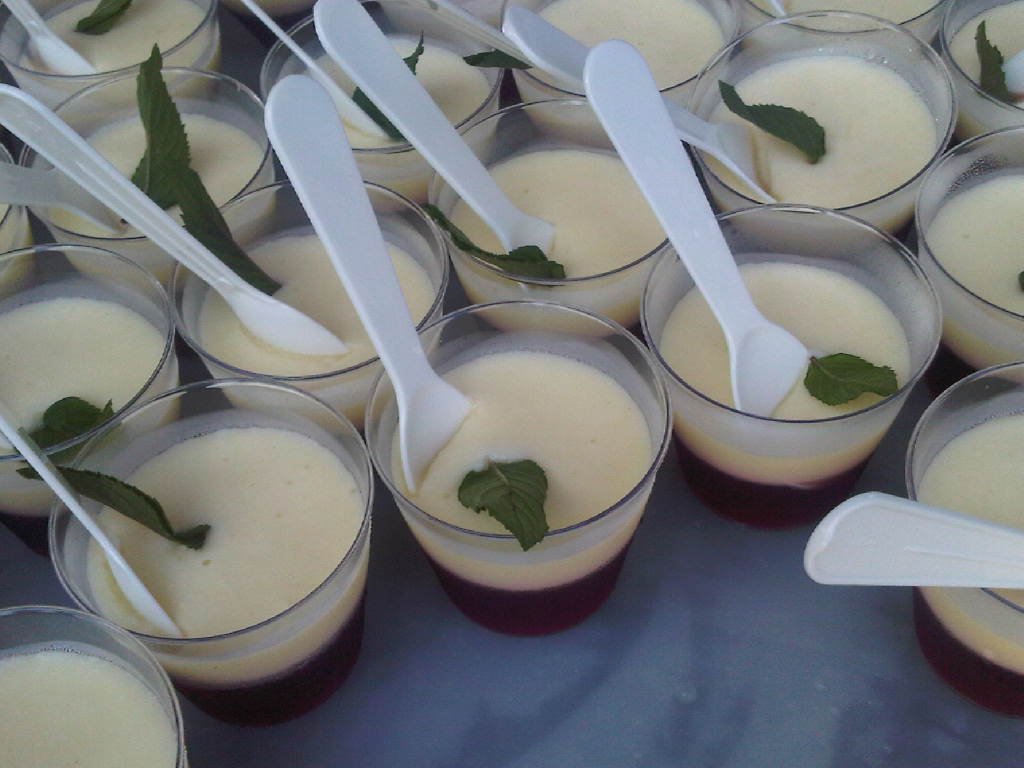 PRASINO
prasino – we can't wait until you open on August 12, 2011.  There have been many reports of people peeking in the windows on Division Street.  This raspberry gelee cooled us down.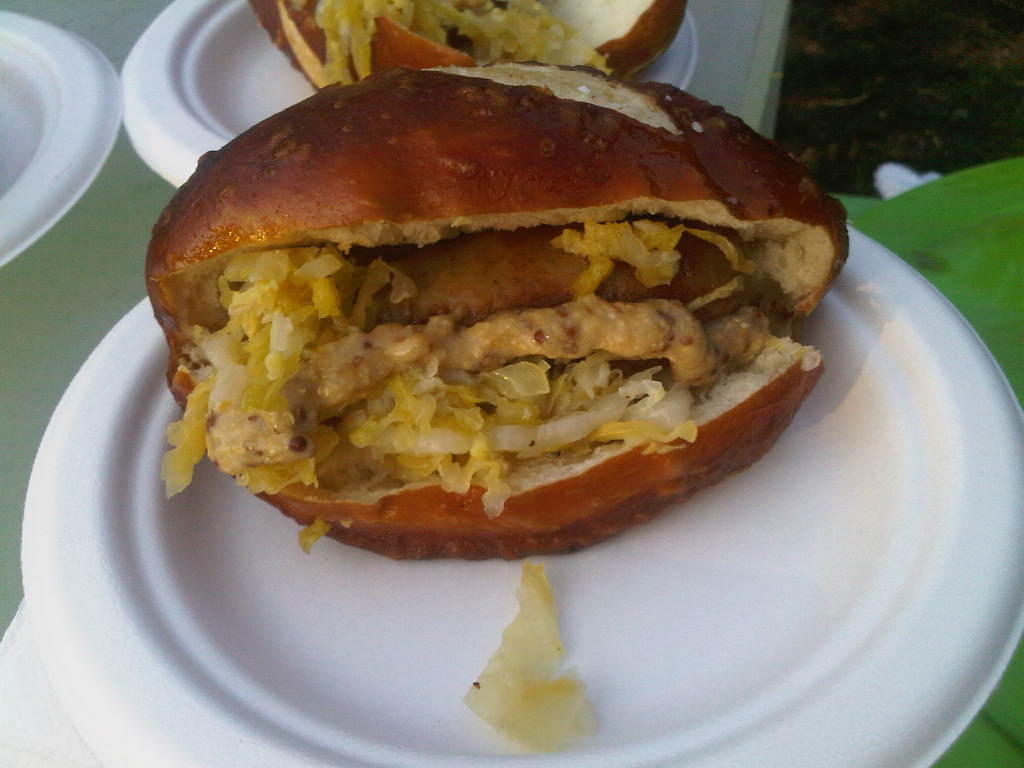 THE FOUR SEASONS
Bacos???  Another great idea found at the GCM BBQ.  And the Brat served with Sophie Beer Mustard wasn't bad either.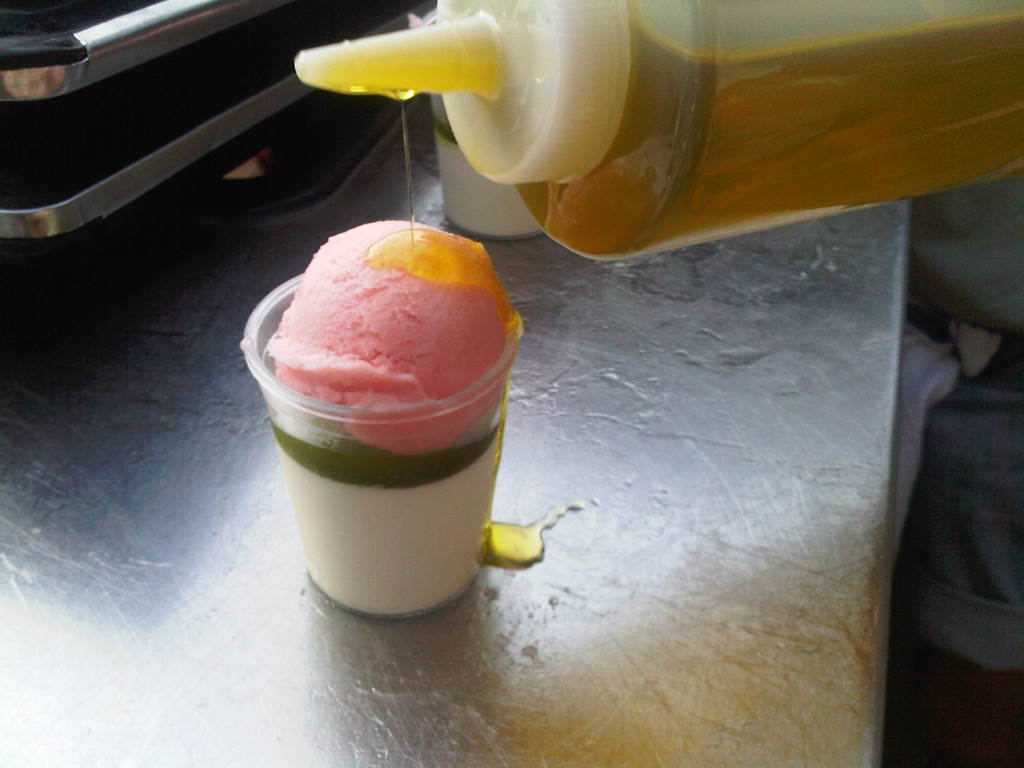 It was also great to see Terri Hickey from the Four Seasons in action making these caprese sundaes.  The Heirloom Tomato sorbet was a welcome relief.  At least you got to stand over a cooler girlfriend!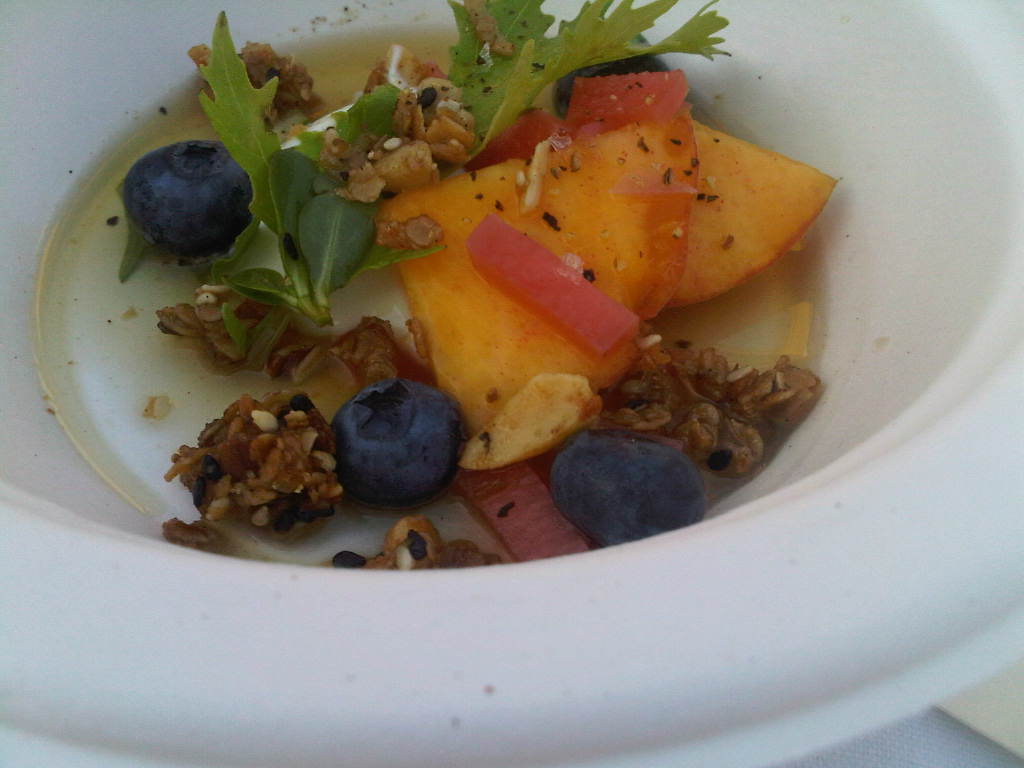 SPROUT
I love seeing Dale Levitski because he usually threatens me with violence for not yet having been to Sprout, which admittedly is quite deserved.  In his cheery summer tee he was serving Summer in a Bowl – granola, fresh fruits and arugula.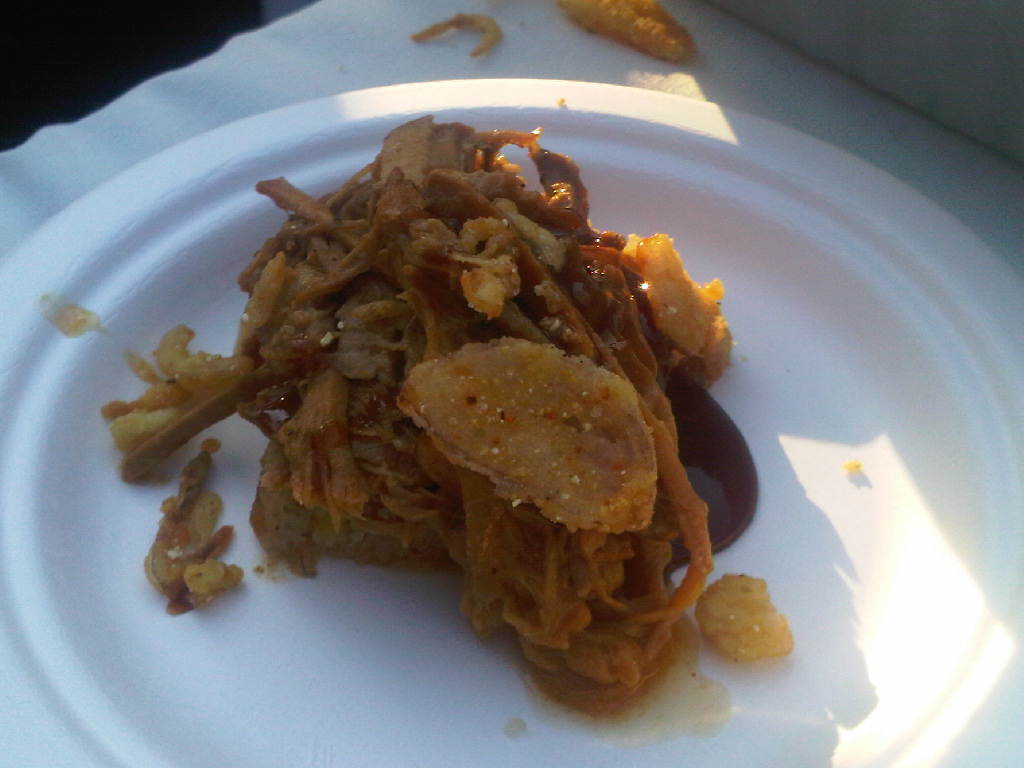 SOLA
One of Carol Wallack's specialities at sola is her Kaluha Pork.  This one topped with crispy shallots.  And on the side ice cold pink vodka lemonades, another brilliant idea at the BBQ!  Carol – hopefully I will see you this weekend for my burger fix.  There also needs to be another Luau soon.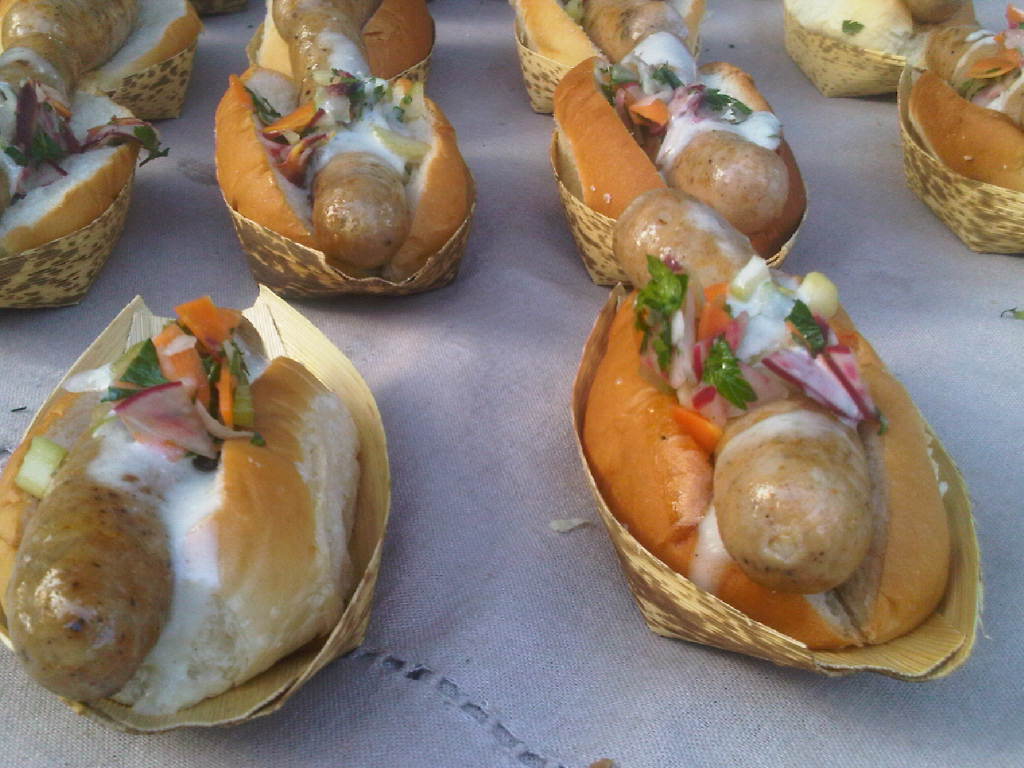 SEPIA
This was a crowd pleaser – Buffalo Chicken Sausage, Blue Paradise Cheese, and Vegetable Crudite salad from Chef Andrew Zimmerman.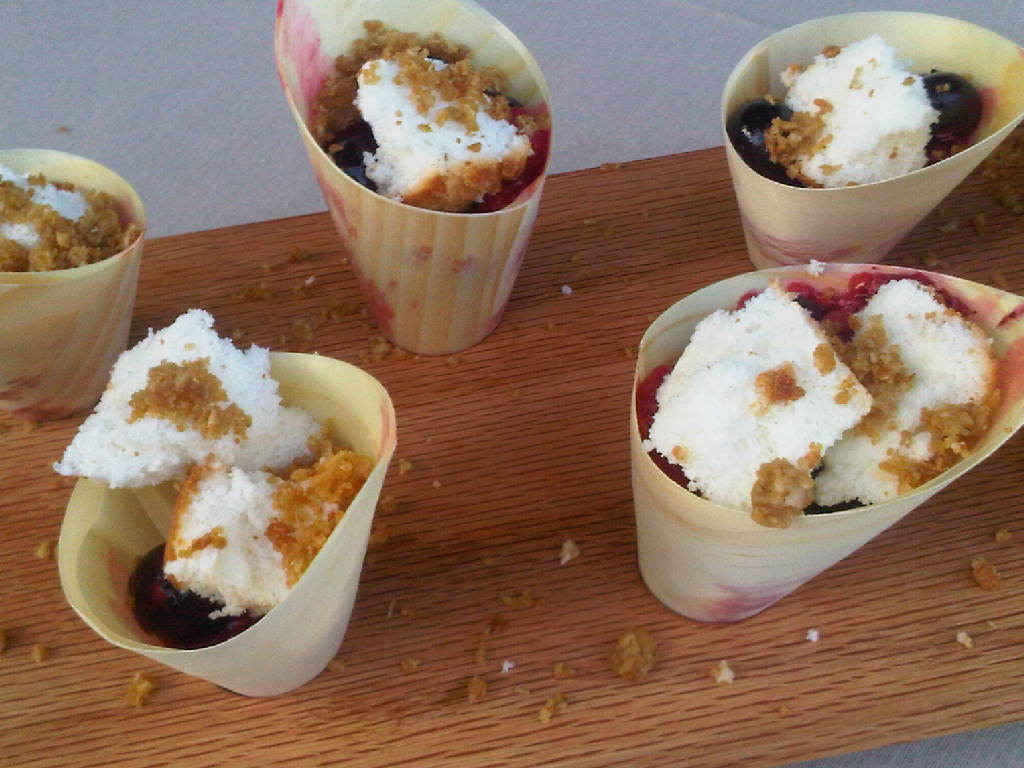 Paired with these Angel Food Cake cones with spicy peach salsa.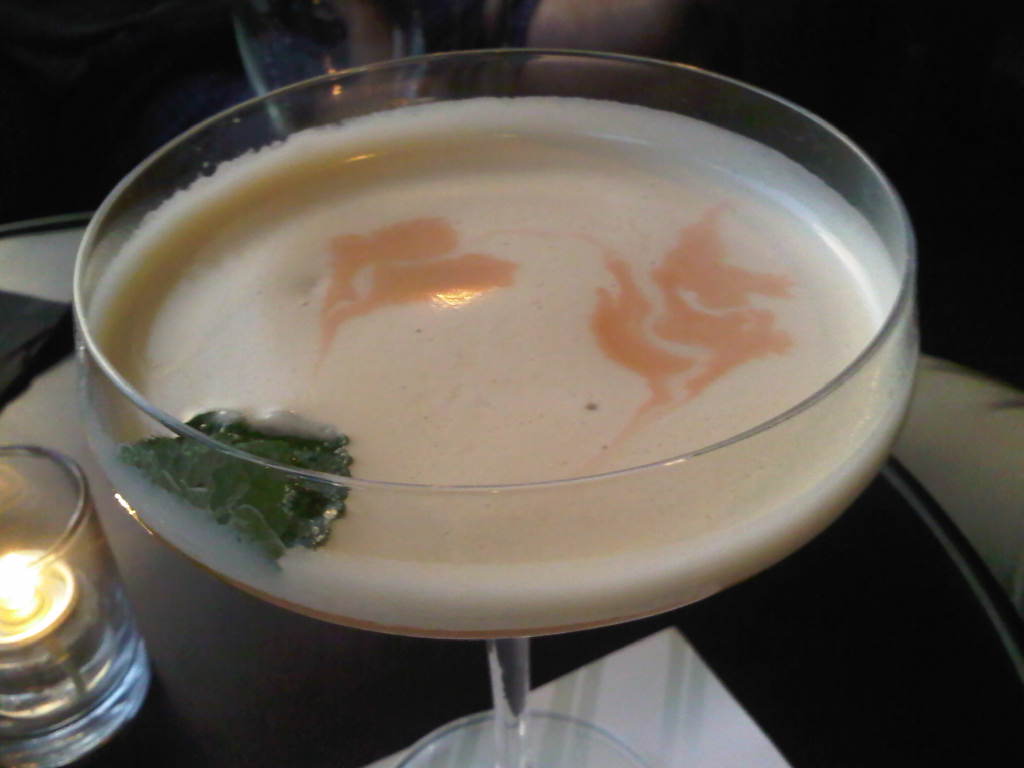 PERENNIAL VIRANT
AND FINALLY, Little W and the PIC ended up at the impromptu after-party where a "Roll in the Hay" was thoroughly enjoyed.  Old Overholt Rye whisky sour, sorghum, lemon balm and hyssop.  Bartender, is that heart shape just for me, aw, I love you too.
As friends started piling in like JZ, AB and JG etc, we had a blast, cooled down and gossiped like there was no tomorrow!
Details on "The Walk of Shame" with JG to follow on Thursday AM …