When Chef David Burke is in town it is always a party.  Yesterday he and Chef Rick Gresh gave us all some tailgating tips on  Windy City Live for your next sporting match from David Burke's Primehouse. Whether you are into sports or not, these recipes are sure to be a fan favorite. GAME ON!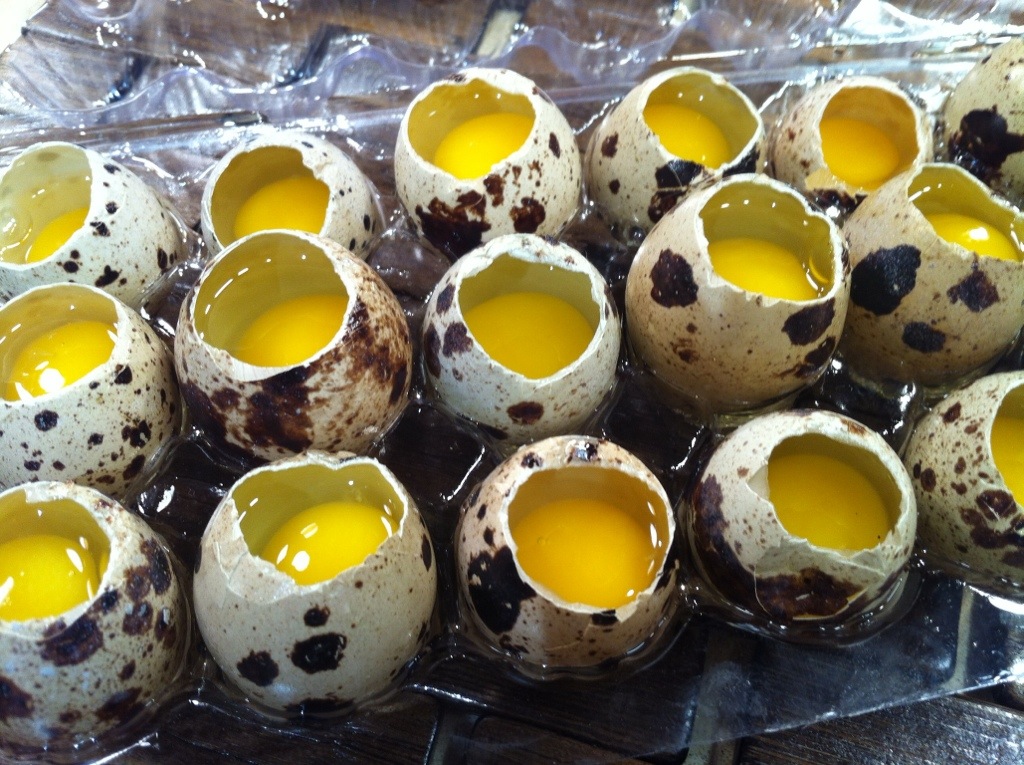 Beautiful quail eggs that will go on top of the brie grilled cheese sandwiches.  Rick has a special egg cutter at the restaurant that can delicately get through the shells.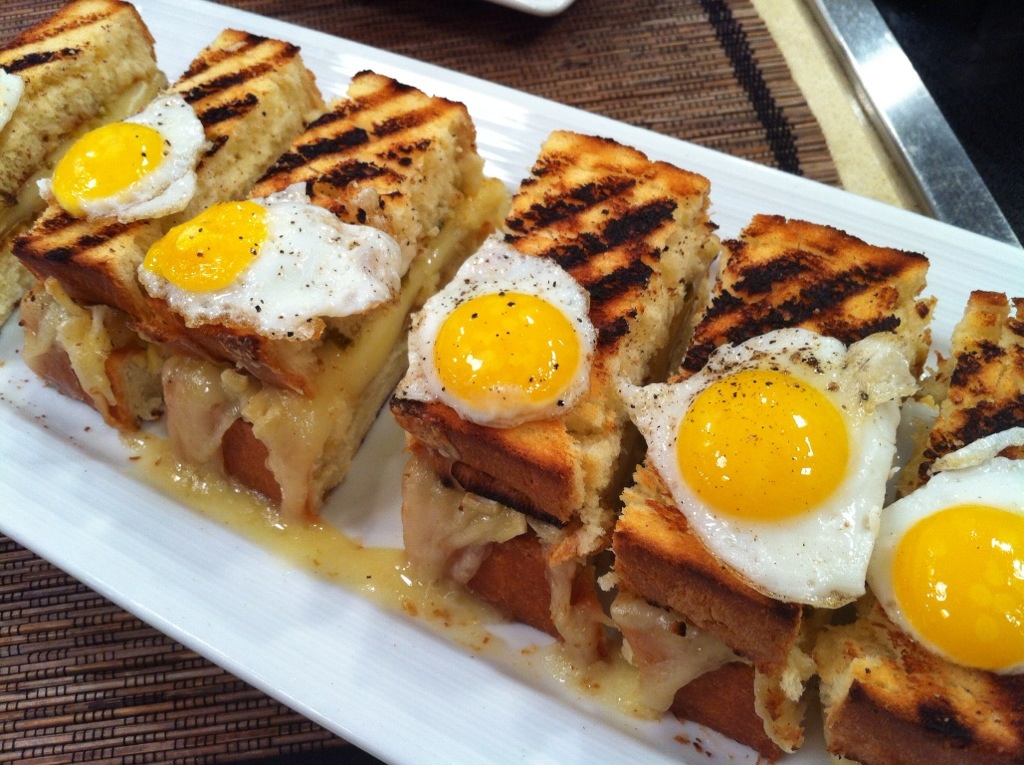 The finished appetizer – grilled cheese with brie and spicy pear.  David wants brie to make a comeback.  I also put in a vote for goat cheese.  So 90s.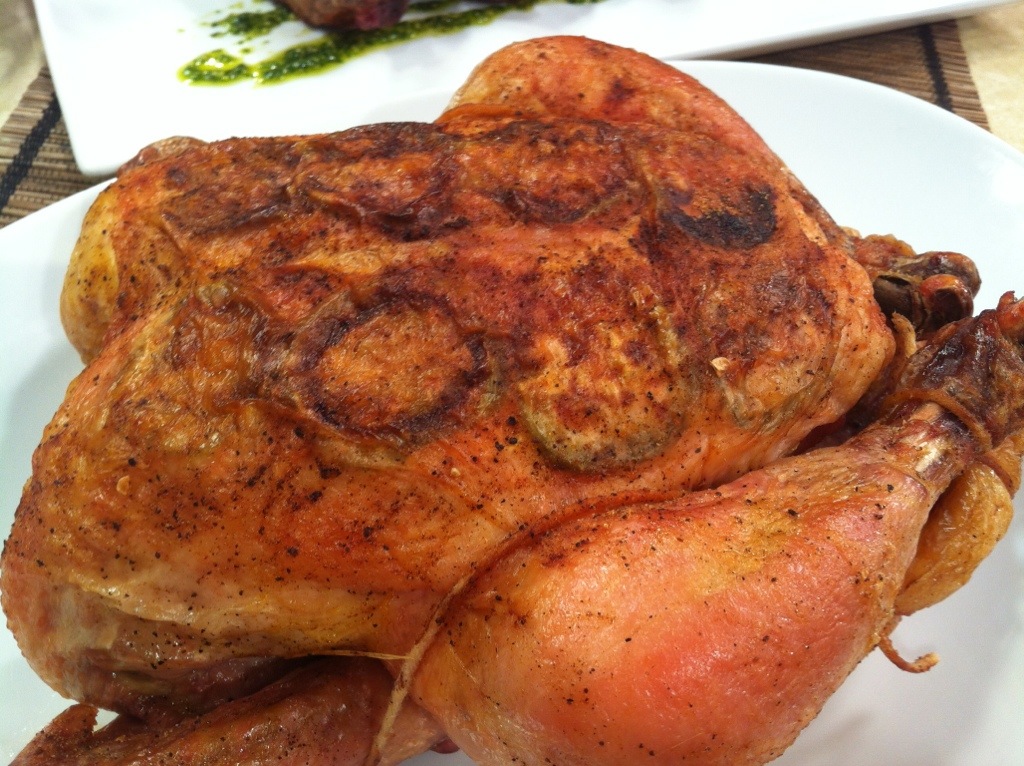 One of David's new favorite menu additions – Rooster.  Also known as capon, it has a heartier and slightly rich gamier flavor.  This one was roasted in the oven, flavored with jalapeno under the skin.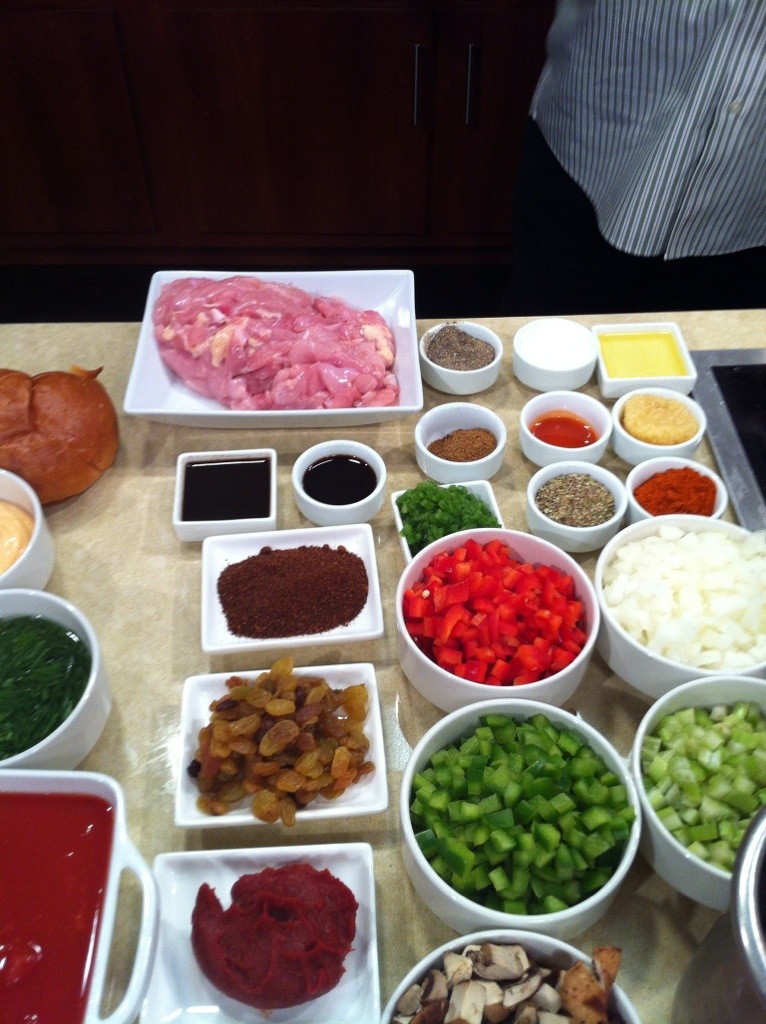 The mis en place for the spicy rooster chili.  The recipe is listed below and I will be making this at my next party, since David gave me some secret tips on how to make this batch a sure winner.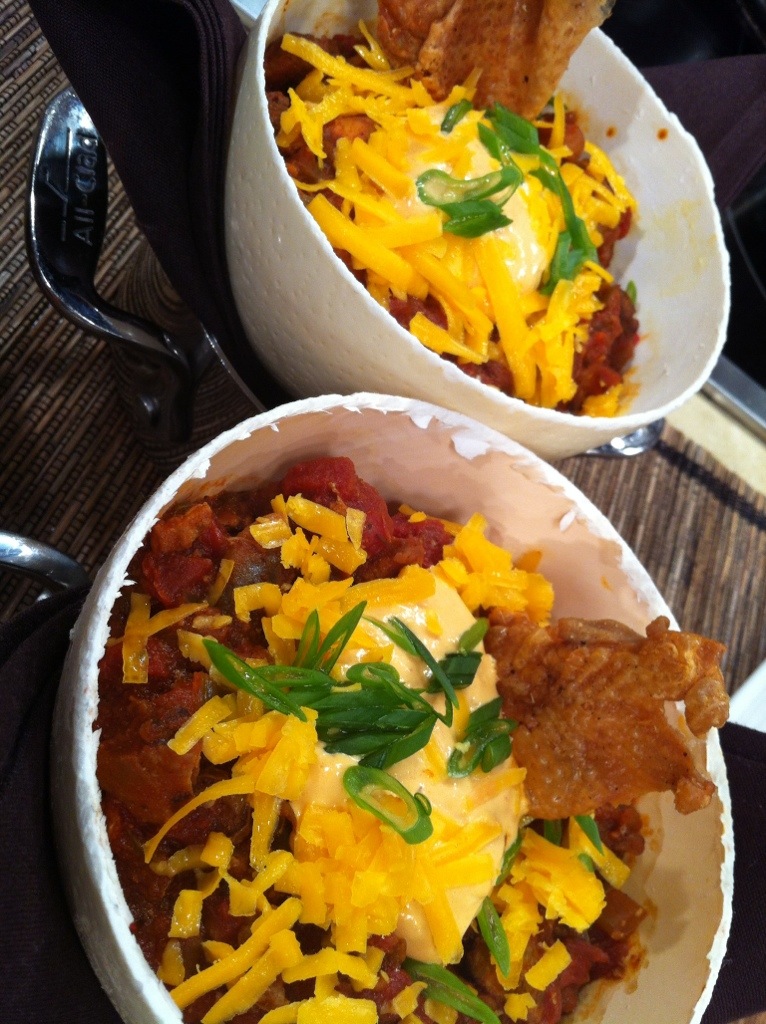 The chili – served in ostrich shell bowls and garnished with capon cracklins.  Cracklins are the new bacon, you may have heard this here first.  They are less greasy than pork rinds and an alternative to bacon when you still want that fatty crunch.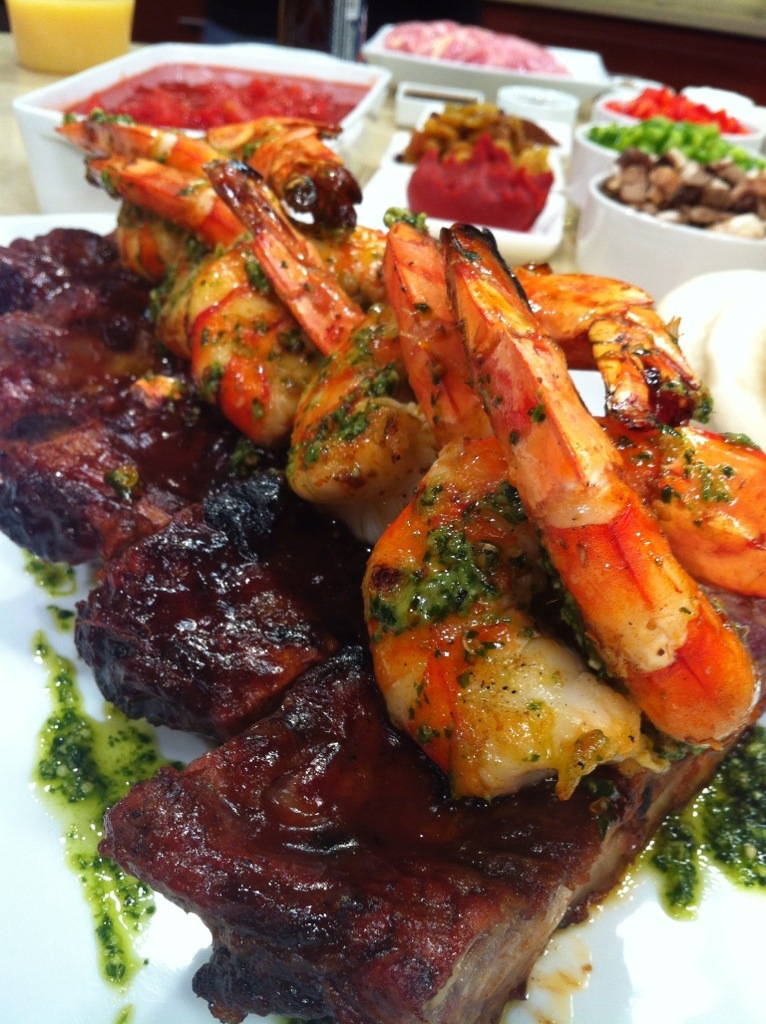 A little surf & turf.  Giant ribs with cilantro pesto shrimp.  Now I cant wait until the next game day!
Chef David Burke on Windy City Live
Rooster Chili…cheddar cheese and sour cream
2 ea              Capon, remove all meat from bones, medium dice meat, skin saved.
2 tbsp            Veg oil
2 ea               Onion, small diced
8 ea               Garlic cloves, minced
2 ea               Red bell pepper, small dice
2 ea               Green bell pepper, small dice
2 ea               Celery ribs, small diced
2 ea               Jalepeno, minced
1 tbsp            Cumin, ground
¼ cup            Chili powder
2 tbsp            Cayenne pepper
2 tbsp             Oregano
½ can             Beer
6 oz                Tomato paste
2 tbsp             Worcestershire sauce
2 tsp               Hot sauce
¼ cup             Golden raisins
¼ cup            Soy sauce
2 qts              Diced canned tomatoes
to taste          Salt and pepper
Garnish
2 cups             Sour cream
2 tbsp              Ancho pepper in adobo sauce puree (optional)
2 cups             aged cheddar cheese minimum of 2 years
2 cup               Capon cracklins made from the reserved capon skin
2 tsp                fennel seed, ground
3 ea                 Green onions, cut on a bias
Method:
In a hot pan coated with veg oil brown the capon meat.
Add the onions and garlic and cook until translucent.
Add jalepeno, bell peppers, celery and spices and cook for 4 minutes.
Add beer and tomato paste and cook until reduced by half.
Add remaining ingredients and bring to a boil, reduce to a simmer and cook for 2-3 hours until the liquid has thickened and the meat is tender.
Mix the ancho puree and the sour cream, set aside.
On a sheet pan lined with parchement or a silpat lay out the chicken skin flat.  Season with salt, pepper and ground fennel.  Top with another piece of parchement or silpat and another pan and bake in a 300°F oven until crispy, approx. 30 minutes.  Remove from oven and crumble when cooled
To serve: ladle chili into a bowl, top with  ancho crema, cheddar cheese, green onions and capon cracklings.