There is nothing more exciting than cramming in as much fun as possible when visiting a city for 36 hours. Armed with the package we bid on at the Chicago Meals on Wheels Celebrity Chefs Gala silent auction last October, we were booked for non-stop action. Here are the best bites of the trip.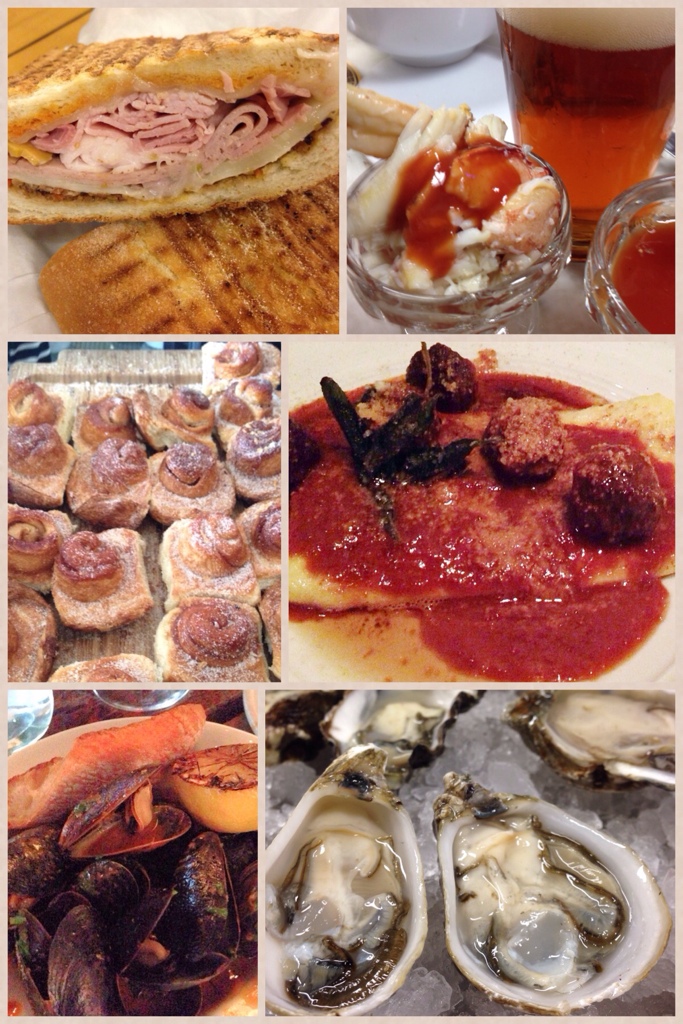 Clockwise from top left:
Our favorite stop had to be the Ferry Building Marketplace. Loaded with great eateries and shopping, we were there for HOURS. Boccalone was where we stopped for lunch. The staff had us tasting salumis and before we knew it #billyisthebest ordered a Muffuletta Sandwich. Of course I had to order a half pound of Iberico de Bellota and grabbed some Acme bread, so we could snack it throughout the rest of the trip.
The line at Swan Oyster Depot was as promised, INSANE! After a stroll up and down through Nob Hill, we waited over an hour, making friends and snapping pics with those braving the wait. What an institution. Their highly recommended crab cocktail.
A deliciously rich spin on lasagna and meatballs at SPQR.
The freshest oysters ever at Swan Oyster Depot. Paired perfectly with an icy Anchor Steam.
Our first official stop was at Salt House.  Their happy hour was BUMPIN' with beautiful people right at 4 pm. The steamed mussels al ajillo were beyond flavorfully addicting with spanish sherry, paprika, garlic and chili flakes.  We had to ask for more ACME bread to lavish in the sauce.
Tartine Bakery morning buns – right out of the oven.