One thing about Godfather caitgreenwood from Food Mafia – that girl knows how to eat. She popped into Trencherman recently in her hood – and this review makes me want to rush over there ASAP!  Congrats Mike and Pat!
What a fantastic night at Trenchermen, truly. I sincerely hope this place takes off and is around for a long long time, especially because I live so close and can see myself spending a lot of time at the fabulous bar! My boyfriend and I popped in on a Thursday night to check out the food and drinks; after reading who was behind this new spot (the Sheerin bros, Tona Palomino, et al), I was very excited to dive into the menu and the cocktails!
The space itself is great, it's casual and warm with great antique details- the space was a bathhouse dating from the early 1900s where organized crime members and politicians used to hobnob and cut deals; pretty neat history! It still has the white subway tiles and now has an amazing bar in the main room, and a separate dining area with some really great light fixtures and a to-die-for wall of wine. While the space is warm and casual, the food and drinks are extremely refined.
The bar has a very cool barrel cocktail and tap program; and they serve some carbonated beverages, such as the refreshing Bridge and Tunnel, as well as some twists on classics, like the UH-MAZING Jewel-Up. We had several, several Jewel-Ups (beware, they are strong and will sneak up on you!).
The food, from the prolific Sheerin brothers, was really a joy. We couldn't really decide on what to get, so we just ordered whatever caught our eye. We started with:
-Pickle Tots with chicken breast bresaola, red onion yogurt, scallions (the chicken breast with the red onion yogurt really made this dish, I was practically licking the yogurt off the plate!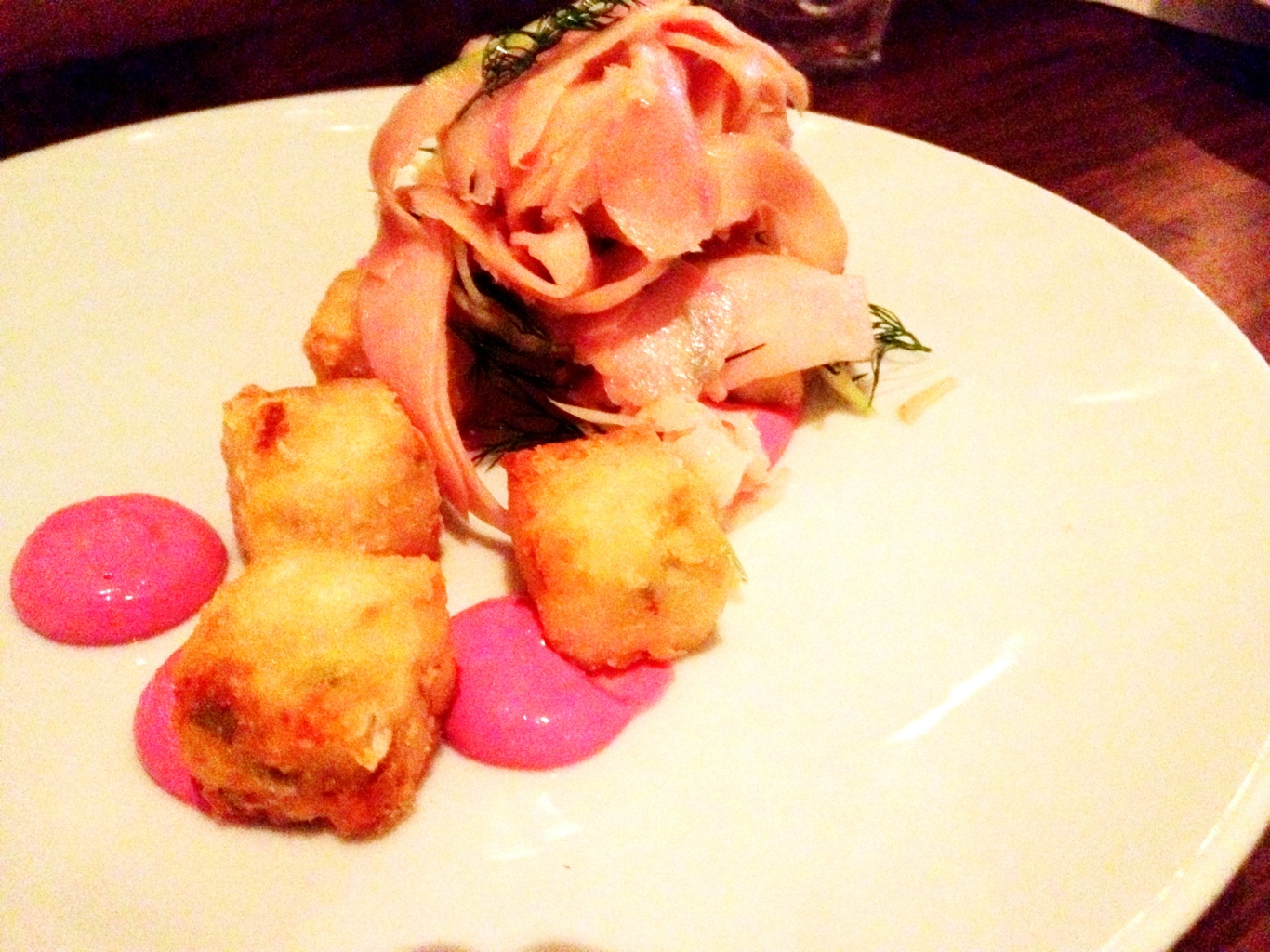 -Beet Bocconcini with baby lettuce, radish and orange
-Scotched Quail Egg with cauliflower, almond, caviar, maple (a favorite dish for the both of us, really different and really delish)
-Bacon Cured Sweetbreads with XO sauce, black garlic, limed carrots, nori (the black garlic and smoky bacon was great with the sweetbreads!)
-Scallop with avgolemono, rice, egg yolk bottarga, baby turnips, lovage (this was a great dish, but I'm a scallop fanatic!)
From there (what a way to get started) we decided to share a few mains:
-Smoked Kentucky Paddlefish with haricots verts, cherries, chicories, chocolate malt granola (my boyfriend isn't a fan of smoked fish, but I loved this dish!)
-Aged Peking Duck Breast with rhubarb umeboshi, fried rice, kim chee mortadella, red bean paste, nasturtium (probably my favorite dish of the night, the duck was amazing and the rhubarb and kim chee mortadella were such an awesome combo with this dish).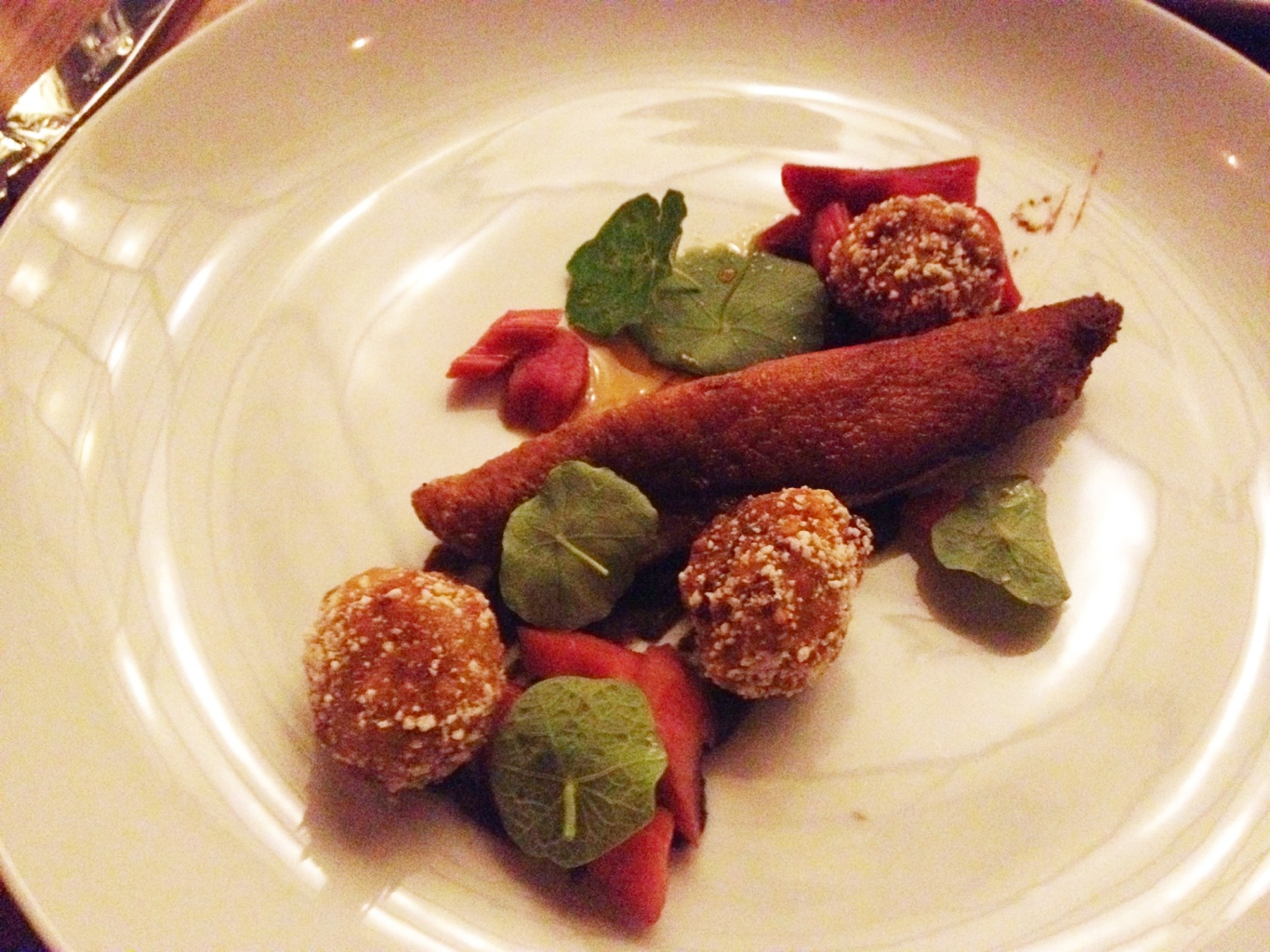 -Slow Smoked Texas Brisket with Trencheritos, mustard garganelli, snow peas, cornichons (my boyfriend's favorite of the night, it was tender, hearty, and perfect)
-Braised Pork Belly with sugar snap peas, coconut, vanilla, plums (another close favorite; the belly is brined for 3 days and then sous-vide, which makes it unbelievably tender, The coconut with it was a pretty incredible flavor addition as well!)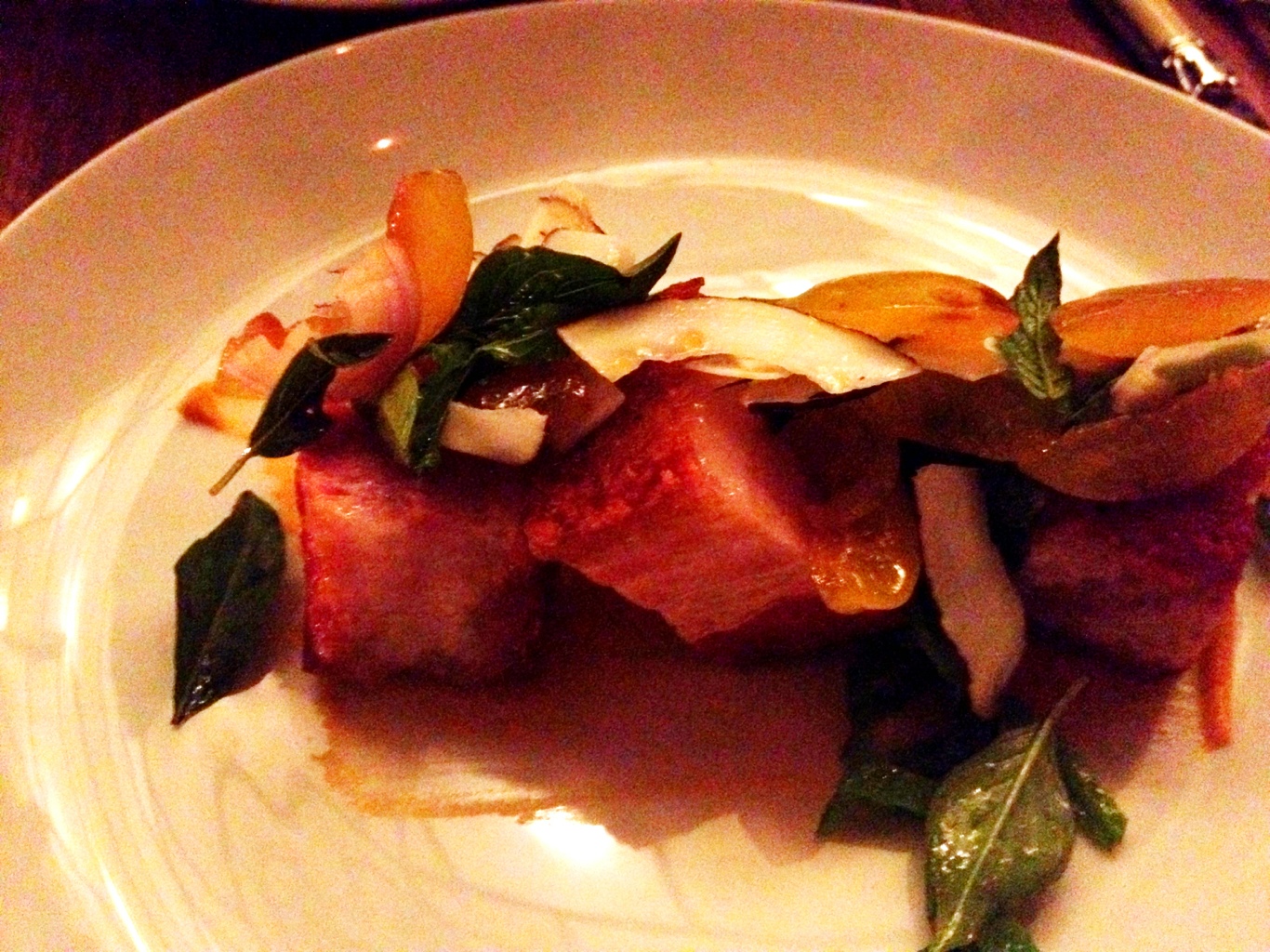 After this gluttony we had to still try desert:
-Coffee Cake with chai tofu ice cream, fried chocolate, smoked 'merengue' (yum, just yum, and perfect with coffee, surprisingly enough

)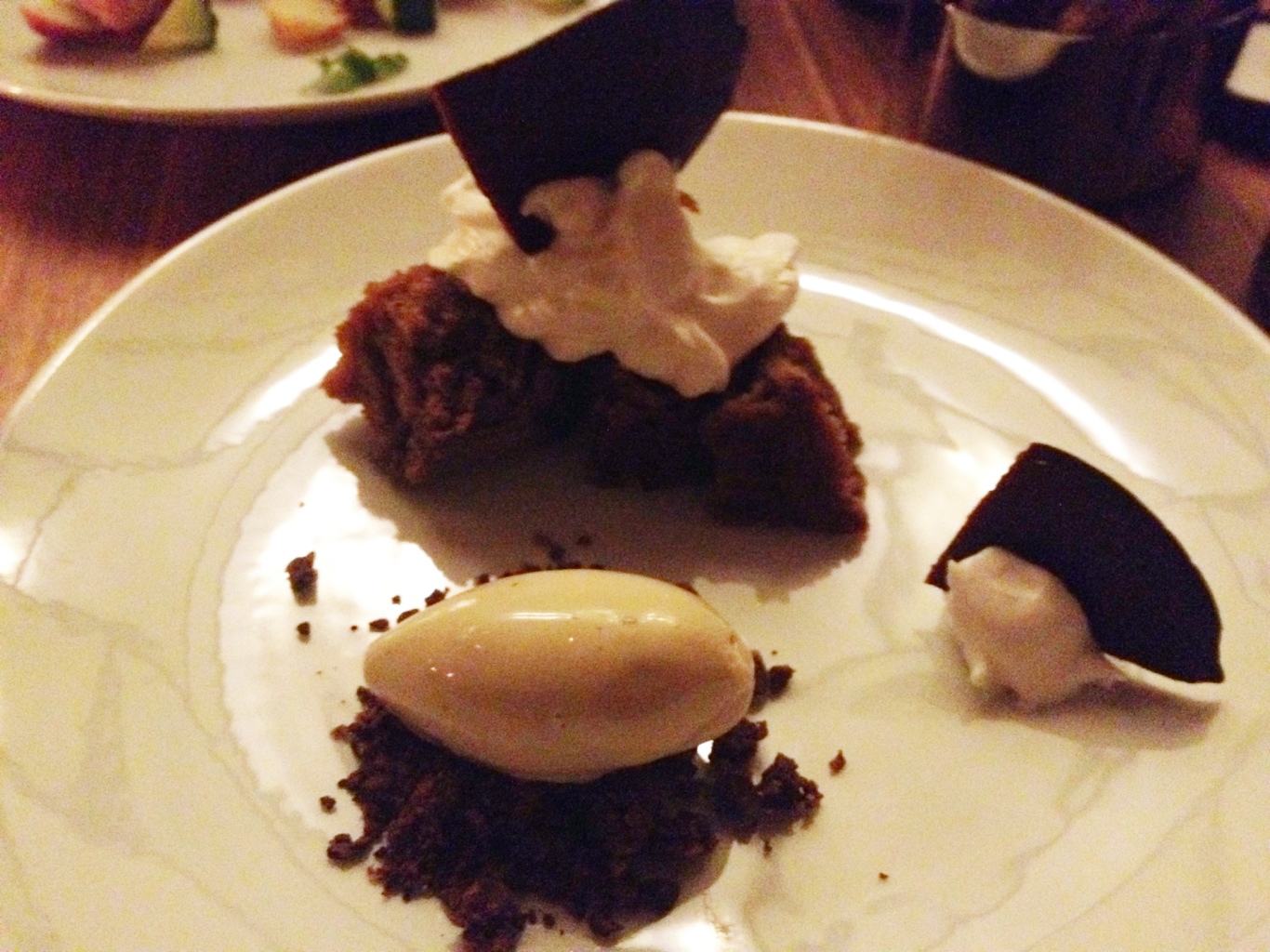 -Candied Cumin Churros with apricot, white chocolate dulce de leche, coriander (these were tasty, we could have had a basket of them!)
We had such a fabulous night at Trenchermen. The service was superb (shout-out to Phil and the amazing Yvonne), the cocktails and wine were fabulous. The food was really incredible; there were such interesting and surprising flavor combinations, some subtle and some not so subtle, but all working perfectly. I can't wait to go back and try the other items that were recommended (zucchini soup!) and get some of our favorites again!
Every Monday TheFoodarazzi features some of their favorite food shots and reviews from FoodMafia.